IN ORDER TO INSURE A PROPER FIT ON YOUR ARMOR, PLEASE READ ALL INSTRUCTIONS COMPLETELY BEFORE BEGINNING
---
You MUST wear a complete uniform and gun belt.

DO NOT take any measurements unless you are wearing your duty belt.

Empty all shirt pockets and stand or sit comfortably while being measured.

Do not watch the person measuring you.

Stand or sit relaxed and look straight ahead. Do not slouch and do not "stand tall"
Correct measurements are the responsibility of the customer. If you have any questions please call us
USE THE SIZING CHART BELOW TO HELP DETERMINE THE PROPER SIZE NEEDED
---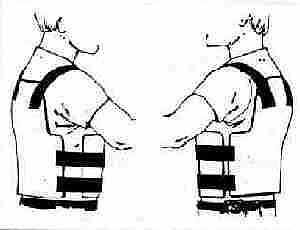 These drawings illustrate the difference between the Contour model (Left) and the full coverage model (Right). The Contour model has a standard width back panel while the width of the Side Panel model back panel varies depending on the size ordered.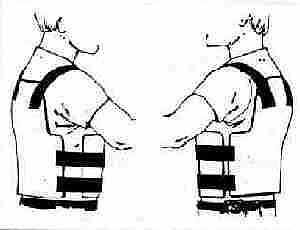 Chest Measure
completely around the chest at nipple height with arms at sides. make sure to keep the tape at an equal height around the chest.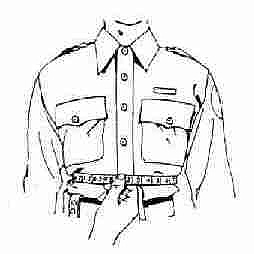 Completely around waist just above belt height. Stand normally and DO NOT SUCK IN YOUR STOMACH OR HOLD YOUR BREATH.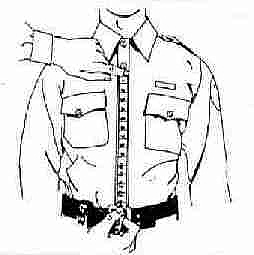 Measure from the second shirt button (the collar button is the first button) down to the top, center front edge of the gun belt.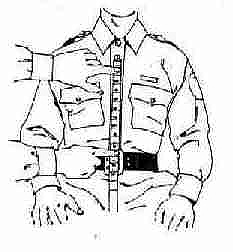 Front (sitting)Repeat the same procedure as Front Standing while seated. Sit comfortably.DO NOT SIT SLOUCHED OR RIGIDLY UPRIGHT.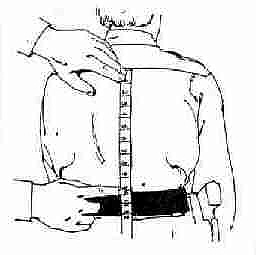 Back Place the top of the tape as shown. (Position should be 4 inches down from the collar seam.) measure to the top, center back edge of the gun belt.
---
Belt to Belt
Measure from the top edge of the gun belt (in the back) over the center of the shoulder to the top edge of the gun belt in the front.
Be sure tape is straight down the front and back.
(Notice that the tape measure on the front lies on top of the shirt pocket.)
PLEASE NOTE:
Armor Panels require a 2′ to 2 1/2″ gap between the gun belt and the bottom of the vest when standing. This open area is necessary to prevent the vest from riding up while seated.
Chest Sizes: Small = 34-36ins 91cm, Medium = 38-40ins 102cm, Large = 42-44ins 112cm, XL = 46-48ins 122cm, XXL = 50-52ins 132cm, XXXL = 54-56ins 142cm