Description
Cooling Suit designed for EOD operators and general use for factories, desert operations, demining operations in fact any application that requires cooling the wearer's body.
using a constant flow of Iced Water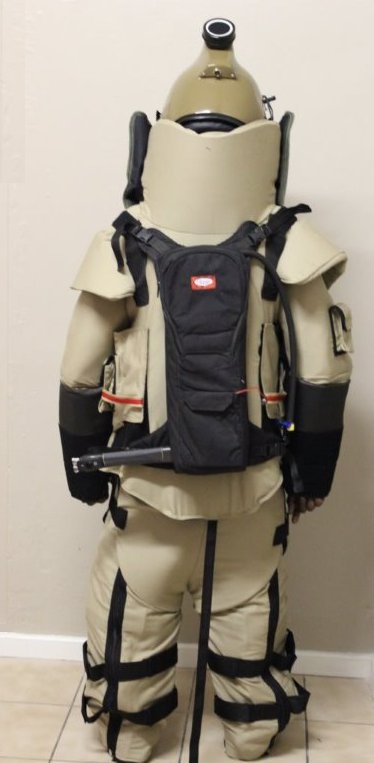 The Kejo™ Cooling Suit is designed to offer a safe and cool environment for people who must maintain a high level of efficiency and concentration under extreme heat. The system is ideally suited for persons involved in bomb disposal and surveillance operations, as well as personnel in non-air-conditioned armored vehicles.
The Kejo™ Cooling System uses ice water to remove body heat produced during strenuous work, especially in hot environments. The suit requires no hazardous pressurized canister or toxic cooling agents. Made from machine washable, fire retardant material the Kejo™ Cooling Suit also offers protection against heat and flash fire balls making this suit suitable for use under bomb suits, chemical suits and many other applications where body heat removal is desirable.
The Backpack Full Body Cooling System (BFBS) is made up of a Backpack Ice Water Circulation System and Full Body Liquid Cooling Garment. The BFBS circulates cold water continuously around the body, legs and arms, keeping the wearer's entire body cool and comfortable in hot working conditions. The Backpack system includes a 3L quick release bladder, 7.4V mini pump, a rechargeable 2200mAh battery and quick fitting connectors.
A Base layer full body cooling garment with micro-tubing embedded provides a better cooling performance. The wearer can expect a longer working time and an extreme cooling feeling using the 3L QR bladder, which is easy to replace and extend the cooling time even more.
Blue Stretch liquid Full Body cooling suit (Dark blue and Black liner) .Body Fit Underwear Design, a Front Zipper, 5-10% Stretch Expansion, with or without Hoodie Assembly. This provides better air permeability and a quick cooling performance, 3-6 hours cooling from the 3L frozen bladder, 2-4 hours from ICE cubes, and the 7.4V 2200mAh rechargeable battery provides up to 10 hours of operation.,
Key Features :
* Suit sizes: XS/S, to L/2XL, having a 5-10 % stretch expansion by fabric (10cm/4" Max) to keep body fit comfortable. Ambient 0℃-60℃ (32℉-140℉).
* Cooling temperature range 36℉-68℉ (2℃-20℃), Noise: 48dBA,
* Extreme Cooling Performance 36℉-68℉,
* Well-distributed Four Zones Liquid Cooling Channel, Evenly distributing the Full Body Cooling Suit
* Comfortable Skin Cool Feeling with Soft Stretch Air Permeability Mesh Liner, Soft Micro Tubing Embedded on the liner, No scratchy feeling on wearer's skin.
* 3L Freezable Detach Quick Release Bladder, Quick Body Cooling, Easy to Replace and Extend the Cooling Time.
* Cold Source: Ice cubes and water
* Power: External rechargeable battery pack One 7.4V 2200mAh 4017plug Rechargeable Battery and Charger (US type)
* The Cooling BackPack unit can attach to bomb suit via Velcro or Kejo EOD Suit has buckles to hang the backpack already provided as standard
* Second water/ice Bladder supplied for stand-by replacement use.
* Large capacity ice water Bladder can be supplied on request.
* The 2L Detachable Bladder with quick release fitting, allows the user to fill in water from the top roll opening and to freeze in the fridge or fill in ICE water for quick operation in the field.
* Mini water pump for Backpack ICE Water cooling system, Voltage: 7.4V DC, Current: 0.15A, Water flow: 350ml/min, 4017 plug for battery.
* Safe and Healthy, Clean ICE Water Circulation for Body Cooling, 100% Safe Physical Cooling and Environmentally friendly.
PLEASE EMAIL US WITH YOUR REQUEST FOR PRICING Contact Us – Kejo Limited Company (bodyarmorcompany.com)
SKU: KE COOL SUIT