Description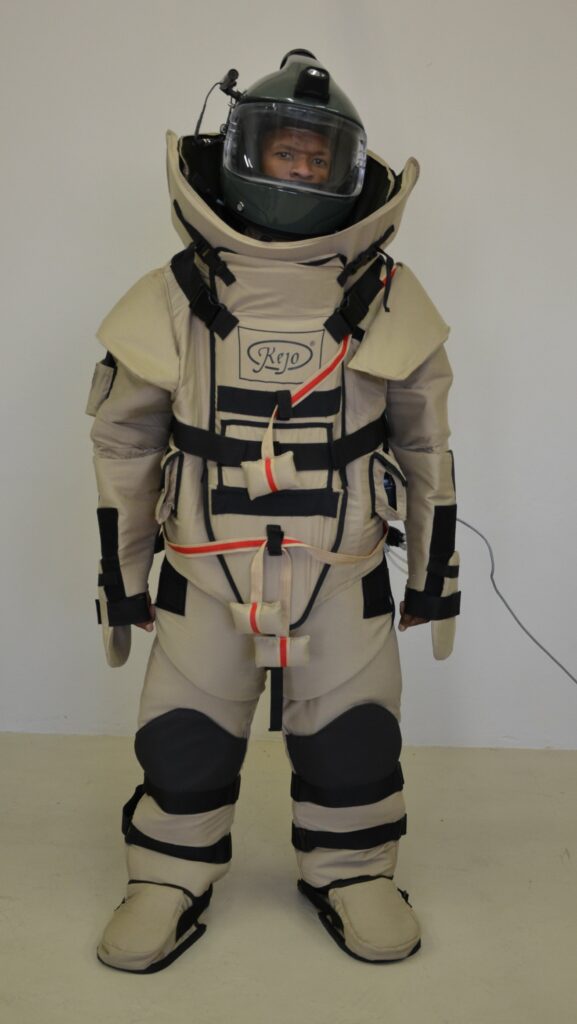 Kejo CAGE Code is 3DP12
KEJO Saviour EOD BOMB DISPOSAL SUIT – The KEJO Saviour 2022 model EOD Bomb Suit is designed to offer the maximum protection with the minimum weight making it one of the worlds most advanced high-performance cost-effective suits available. Kejo EOD suits are in service in many countries and have proved themselves operationally on numerous occasions. Our latest Kejo Saviour Generation suit aims to be the most comfortable and flexible suit available offering the highest levels of protection against the blast threats: Overpressure Shock Waves Primary and Secondary Fragmentation Displacement Force Heat / Fire. The latest material technology is used to keep the suit as flexible and as comfortable as possible whilst maintaining the highest levels of integrated protection all round the body.
The suit can also be quickly donned without special assistance and incorporates a quick release system for the rapid removal of the suit. The new KEJO Saviour 2017 model EOD Bomb Suit uses the latest Aramid technology available which offers the best flexibility to weight ratio without compromising the ballistic performance. Moreover, the helmet incorporates the latest Aramid technology and multi layer transparent system which allows it to be one of the lightest and most comfortable EOD helmets on the market. Trousers The trousers have fully adjustable supporting braces and wide Velcro waistband catering for small, medium and large sizes. At the rear of the legs a full-length zip is used or Velcro . The Trouser zips offer the option of two widths, depending on the circumference of the operators legs. The overshoes are worn over the protective flap on the bottom of the trouser. These are a one piece design and have the appearance of an ordinary pair of trousers with the addition of elasticated shoulder bracers to give the necessary movement when bending and crouching. They also include a fully adjustable waist line and have complete lower groin protection and a high waist line to protect from any blast that might be transmitted from the ground upwards.
. Features: *Ballistic inserts made from multi-layered water-repellent Aramid. *Outer cover Endura or Nomex or Kermel
*Colors OD Military green ,Navy Blue, Desert Tan or Black
Protection Performance:
KEJO Saviour 2023 model Suit Specs
The suit consists of the following separate items, which collectively make the complete EOD suit.
Item Description
1. Trousers with Elasticated Braces adjustable in length and width with quick release zips or Velcro on legs.
2. Smock (Jacket) with attached collar, Sleeves & Groin Protector
3. Over boots / Overshoes
4. Hand protectors /Protective Gloves
5. Blast plates covering Chest, Groin and Throat
6. Spinal Protector
7.Ballistic Helmet (Mark II or Commander ), Level IIIA Visor, Demister & Helmet mounted Head Light Integral speaker, ambient sound and microphone in helmet
8. Carry Cases .
Protection performance figures are for the Stanag 2920 17 grain (1.1gm)
(Mil Std 662F) fragment simulator. Also conforms to Mil Std 1472 re fitting and sizing
Kejo Saviour 2023 model EOD Bomb Suit V50 RATINGS
Test standard
Description
Chest plate and jacket front
MIL STD 662FStanag 2920
Neck 690m/s
Jacket front 600m/s
Jacket rear 600m/s
Sleeve front 600m/s
Sleeve rear 600m/s
Front collar 1600m/s w/steel insert .600 m/s Jacket and Blast Plates 1300 m/s =1900 m/s
Front groin plate and groin protector 1600m/s Front of trousers only 600m/s Blast Plates 1300 m/s Total 1900+ m/s
Rear groin protector 500m/s
Trousers with thigh inserts 600m/s
Trousers-shin insert 600m/s
Trousers-knee insert 600m/s
Rear trousers 600m/s
Helmet 600m/s
Visor 680m/s*Standard Upgrade option up to 790 m/s
Suit weight 28.20kg Suit without up Armour Blast Plates 15.3 kg
Helmet weight 3.2kg
Suit Material Fire resistant Endura, Nomex 111A Comfort or Kermel
Ventilation and demisting With helmet mounted fan
Communication Full duplex hardwire and wireless system-100m range
Hand covers 600V50 (m/s)
Front Collar 850 V50 (m/s) without steel insert
Back 600V50
Front Thigh 600 V50 (m/s)
Shoe covers 600 V50 (m/s)
Warranty 2 years
SKU: EOD-SAVIOUR 2023
Price and full specs on application
We also make to Customers specs if different to our standard suit.