Description
Anti'Scape Stun-Belt Overview:
The Anti-Scape Stun Belt will be used to restrain and control the behavior of prisoners / aggressors while escorting in order to prevent escape and ensure safety, efficiency without dangerous attacks to personnel or to innocent bystanders
Features:
Control range up to 100+ meters to enhance ability.
125-dB Ear-piercing Siren that serves as a first warning to attract audible attention.
Tested safe non-leathal high voltage pulse to temporary incapacitate the prisoner.
Sequential safety activation circuit with Pre-set cut-off timer for duration of shock.
Cables throughout the belt offers cut resistance against a knife.
Dual Restraint heavy-duty Velcro straps with handcuff D-ring ensures belt to be lock tight and secure around waist.
Base Belt manufactured from High density anti-bacterial polyester with robust webbing attachments and covered with durable Cordura Nylon material.
New High capacity 2500ma Li-ion for extended stand by time during escort or or deportation.
Optional: NEW Audit Intel Feature to monitor and Control operation and use of Auditing supplied complete with PC interface module and download software program.
Carry bag: Manufactured from Cordura incorporating dual zip sliders, has inner compartments for accessories and adjustable shoulder strap.
Removable control box for cost effective shipping and maintenance.
12 Months Manufacturing warranty.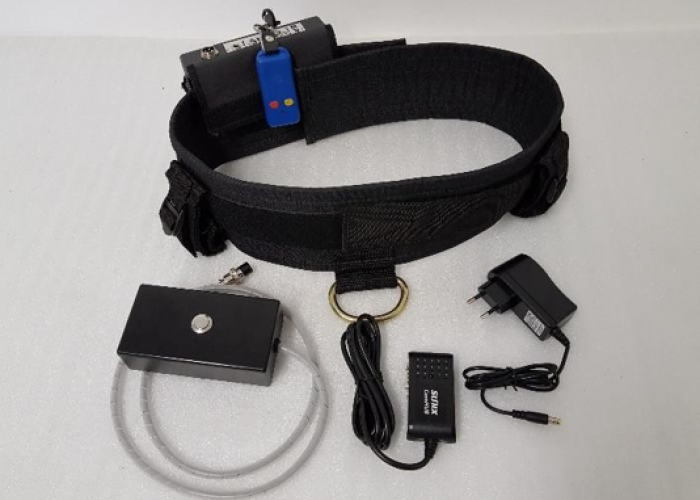 WARRANTY: 1. 12 months on faulty workmanship which warranty has been honored since 1985.
2. Sealed removable energizer box for easy maintenance and repair.
We now offer the standard wide belt and a narrow version for County Courts who demand the device to be concealed from the Jury.

Limitation of Liability: Under no circumstances including but not limited to negligence will Kejo Limited Company its employees or affiliated companies be liable for any claims special or consequential damages costs or cause of action that result from the use of or the inability to use or that you may in the future have as a result of injuries or damage sustained or incurred from the use of the Anti'Scape Stun Belt by either any person applying it in the course of their duty or by any person who is being restrained using with it nor any related products or services even if advised of the possibility of such damages. Applicable law may not allow the limitation or exclusion of liability or incidental or consequential damages so the above limitation or exclusion may not apply to you. In no event shall the total liability to you by Kejo Limited Company or any of its affiliated companies or any of its or their respective licensors or suppliers for all damages losses and causes of action (whether in contract tort or otherwise) exceed the amount paid by you to Kejo Limited Company if any for Kejo Limited Company products. Your agreement to this limitation of liability is a condition of the purchase of these stunbelts and related equipment. User assumes full liability.
FREE Shipping in USA Only
SKU: STSB-DE2233
PLEASE NOTE THIS ITEM IS OUT OF STOCK TILL FURTHER NOTICE