Description
Waistpack Ice Water Cooling System (WICS) is a small and light ICE water circulation unit, it provides less cooling time1-1.5hours with 1.5L Bladder. This model is good for underwear application.
Waistpack Ice Water Cooling System (WICS) is made up of waistpack ice water circulation Unit, 1.5L Bladder, On/Off water pump, battery and liquid cooling vest. WICS circulates cold water from frozen bladder to cooling channel embedded on the mesh liner and continuously flow around your body, keep user cool and comfortable in hot conditions.
Key Features
Small and light circulation unit, good for underwear application with better wearability
Quick cooling performance, 1.5L quick release bladder, easy to extend cooling time by replace the frozen bladder.
Mesh Liquid cooling vest with better skin cool feeling and air permeability, body fit design with sides adjustable device.
Extreme Cooling Performance 46℉, Well-distributed Liquid Cooling Channel, Evenly Body Cooling.
Clean ICE Water Circulation for Body Cooling, 100% Safe Physical Cooling, Friendly and Environmentally.
Waistpack ICE Water Circulation Unit
Specifications
Waistpack: Black Oxford with reflective insulation material
Bladder: 1.5L Quick release bladder
Pump: 7.4V diaphragm pump
Connector: CPC female Quick fitting
Pump: ON/OFF mode
Water flow: 500ml/min
Battery: 7.4V 2200mAh rechargeable Li-Ion battery
Noise: 45dBA
Dry weight: 1KG
Liquid Cooling Vest
Specifications
Material: Soft Stretch Mesh
Color: Dark Green Outer and black liner
Cooling Channel: Silicon micro tubing
Zipper: YKK reversible zipper
Adjustable device: stretch body fit strap
Fitting: CPC male quick fitting
Dry weight: 0.5kg
Size: XS/S, M/L, XL/2XL, 3XL/4XL
Cooling performance:
Cooling time: 1-1.5 hours for 1.5L frozen bladder,
0.5 hours for Ice cube
Temperature Range: 46℉-68℉
Battery Operated: 8 hours
Operation Ambient: 0℃-60℃ (32℉-140℉)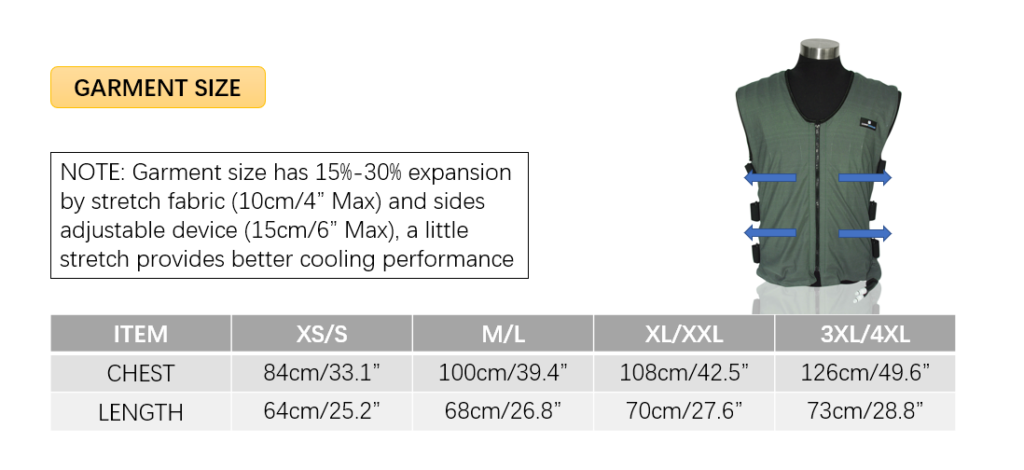 Note: Garment size has 30% expansion by stretch fabric (10cm/4"Max) or adjustable device (15cm/6" Max), a little stretch provides better cooling performance.
FREE Ground Shipping in USA Only
SKU: BWCS-7415V